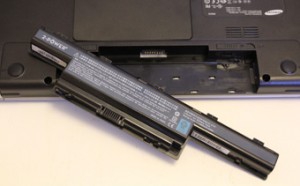 Many of my customers have laptops and one of the most frequent complaints is that the laptop doesn't seem to run for very long when using battery power.
Rechargeable batteries don't live forever (they can only be recharged a certain number of times before they start to lose their efficiency, usually around 500 cycles) but there are some things you can do to help prolong their life.
Here are my top tips for a healthy laptop battery:
Change your power plan.
Keep an eye on the battery meter (usually found in the notification area of the taskbar near the time and date). You can monitor how much battery is remaining and see what power plan is currently in use.
The default power plan for laptops is 'Balanced'.  This will adjust some settings to conserve power and can be changed to suit your own circumstances so aren't set in stone, but having a plan which saves power automatically means that when you are running on the battery, it will extend its usage.
One of the biggest drains on the battery will be the screen so if you are running on a plan that doesn't currently monitor this and don't mind a dimmer display, save power by reducing the brightness slightly.
Another way to get to the power settings to see which plan is in use is to go to the Control Panel, then choose System Settings then Power Options.  (If you're using Windows 10 – get to the Control Panel by right clicking on the Windows icon on the bottom left of the taskbar then choosing Control Panel).